** This is a sticky post until April 4th. Please look below this post for newer posts**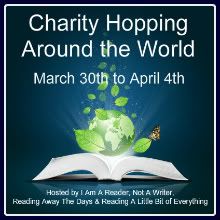 Hosted by:
I Am A Reader, Not A Writer
Reading Away the Days
Reading a Little Bit of Everything
I am # 73 in the hop and thank you for coming by.  Below you will see what I am giving away after  My charity.
My Charity as you can see above is LiveSTRONG which Lance Armstrong established after he was diagnosed with his cancer in 1997.  A quote from their page….
"Since 1997, we've been working to improve the lives of people affected by cancer. We started as a small group trying to raise money to fight this disease. As cancer has quietly become the world's leading cause of death, our work has expanded and now reaches every corner of the globe."
This organization means the world to me as I am a cancer survivor since 1996.  I too wear my yellow wrist band the longest before one has broken is 3 years now.  I do not ever take it off. It is a part of me.  I was not part of the "fad" that wanted to wear the bands.    I was 17 when I was diagnosed with Hodgkin's Disease.  I was in the 3rd stage when it was found.    I beat the odds and here I am today.  I had to make sacrifices but it was worth it.
My husband is a cancer patient.  The doctors think they got all the cancer but, very unlikely.  You see TJ has Adenoid cystic carcinoma which is a very rare cancer.
Adenoid cystic carcinoma (ACC) is a relatively rare form of cancer that most commonly develops in the salivary glands or other regions of the head and neck.   His cancer is not curable at all. Most patients live after therapy for 10 years and then pass.  TJ is in his 6th year.  We take it one day at a time and he works hard to let me stay home with our 4 boys.
So you see this charity means the world to me.  It is my life.    Thank you for reading this long story and I appreciate it very much.  I normally don't open up much on my blog but I hope you walk away with something.
Now for the giveaway I am going to give a ……
All you have to do is fill out the rafflecopter form below and please look at the linky below so you can enter more hops.