** Starts at Midnight tonight 4-10 and is a sticky post until the 17th**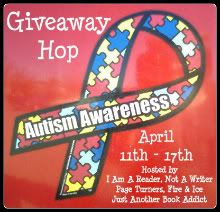 Annual Autism Awareness Giveaway Hop
April 11th to 17th
Thanks to all the host's for this wonderful hop.
Hosted by:
Lindsay @ Just Another Book Addict:
Heather @ Fire and Ice Photo:
Pixie @ Page Turners:
Kathy @ I Am A Reader, Not A Writer: 
April is Autism Awareness Month. To help spread the word about Autism we are hosting a giveaway hop.
My next door neighbor has two children a lovely girl and the cutest little boy Lad. Lad has Autism, diagnosed at the age of two. I remember when Alena worried as Lad was not drinking or eating and would not talk. After going to the doctor several times she finally found out what was wrong. He is now four, gets therapy, talks and plays. It has been a joy to watch him grow and I have learned so much for this experience.
National Autism Awareness Month
In order to highlight the growing need for concern and awareness about autism, the Autism Society has been celebrating National Autism Awareness Month since the 1970s. The United States recognizes April as a special opportunity for everyone to educate the public about autism and issues within the autism community.
Join the Autism Society in getting involved with the autism community this April.